Welcome to our 5th week of Meta Solutions, where we analyse and suggest counters for the most dominant decks on ladder. Our goal is to put more viable decks on ladder to create a more varied and fun experience.
Bonus Video!This week ShamonaHe gives a playthrough of our Oil Rogue deck.
Meta Analysis – November 30th 2015
Skip to Decks

Reno Jackson decks have cut a swathe through the ranked ladder propagating one of the slowest meta-games I have seen in Hearthstone. Any aggressive archetypes are struggling to survive amongst the sea of Reno Jackson Warlocks and Control Warriors. Aggro Druid, one of the most popular archetypes a couple of weeks ago and consistent against most of the older control decks is being ground out of existence.
Secret Paladin, whilst still a relatively popular archetype, has been largely overshadowed by Midrange Paladin this week. Midrange Paladin was one of the most played archetypes this week (next to Control Warrior, Reno Warlock and maybe Zoo) and for great reason. Midrange Paladin is a deck that performs exceptionally well against all of the other hyper popular decks in the meta-game and may have finally attained the throne people have been speculating it might ever since the Patron nerf.
The popularity of Midrange Paladin isn't very surprising, it's a deck that has been hyped by the community for a long time now and performs exceptionally well in the current meta-game. The lack of play of the archetype until now is what's surprising – it's been consistently high rated by community websites (like Tempostorm) and is only now coming into its own. Midrange Paladin also didn't have the skill barrier that prevented Freeze Mage or the old Patron Warrior from seeing a lot of play despite the strength of the archetype. Whatever the reason for its lack of play in the past, its crushing the ladder right now, and looks like it's here to stay.
Combo Druid is a deck that I picked to be very popular over this last week given its favourable Control Warrior, Freeze Mage and Reno Warlock match ups. However, the extreme popularity of Midrange Paladin this week has done a lot to keep this deck down and it isn't an archetype seeing much play currently (certainly not the amount it typically would). The rise of a lot of Zoo decks (thanks Reynad) and Shaman has also done a lot to punish Combo Druid players and it probably won't see much play coming into this next week either.
Freeze Mage is a deck that might become stronger this week to answer the rise of Paladin, Rogue and Shaman. Warrior and Reno Warlock have been the driving force keeping this deck at bay but as the ladder diversifies look for this deck to see a lot of high ranked play.
Midrange Shaman and Tempo Rogue traditionally very weak and underplayed archetypes have started to see a lot of play. Both of these decks perform really well against Control Warrior and the most recent LOE wing has done a ton to bolster the strength of both of these archetypes. With no new LOE wing this week due to Thanksgiving look for these decks to stick around.
The popularity of Deathrattle Tempo Rogue, Midrange Paladin, Shaman and Zoo is beginning to give Control Warrior a hard time in the current meta-game. Look for the Control Warrior population to decrease this week.
Community Tier 1: Midrange Paladin, Control Warrior, Handlock, Reno Lock, Secret Paladin, Freeze Mage, Midrange Zoo Warlock, Combo Druid
Countering this Meta
The ladder population currently, especially at higher ranks, is almost entirely midrange – control archetypes. Even Secret Paladin, the last remnant of an aggressive meta-game has adopted more Midrange Builds to survive the meta game of recent weeks. Most modern Secret Paladin lists run Keeper of Uldaman, Sludge Belcher, Dr. Boom, Tirion Fordring and even a Zombie Chow.
Last week there was an inflated amount of Control decks in the meta-game, the inclusion of Reno Jackson has done so much to increase the average game time. Recognizing this, lots of Midrange decks teched in a lot of cards to give their archetype more reach and the capacity to grind slower decks out of cards. A great example of this is the recent popularity of Cairne Bloodhoof.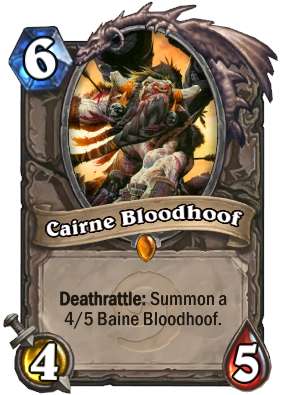 Cairne Bloodhoof hasn't been a popular card for a very long time due to how Hearthstone progressed and the over-reliance it started to have on Tempo as a game mechanic. In  meta-games long past people would have the capacity to just ignore your Cairne Bloodhoof and choose to push a lot of Face Damage and simply race you. Now, given the slow nature of the meta-game, and the ability for Reno Jackson to punish hyper aggressive lines of play Cairne is becoming very viable. Decks are valuing minion trading at far later stages of the game than has previously been seen in order to play around the strength of one card, Reno Jackson.
To reflect the meta-games new dependence on late-game minion combat Cairne Bloodhoof and Kel'Thuzad has seen a surge of play in the meta-game – particularly in Reno Jackson Midrange Paladin and the new Deathrattle Tempo Rogue. Decks are becoming a lot 'greedier' as they attempt to shine in this slow meta-game.
A month and half ago there was a lot of talk about the hyper-aggressive nature of the meta-game, how the ladder was broken and how Blizzard needed to fix it. Well the community and Blizzard listened and the current meta-game is certainly much less aggressive – but we may have gone too far. The current ladder state is arguably just as polar as it was a month and a half ago – just in the other direction – and is Reno Jackson really more fun and interactive to play against?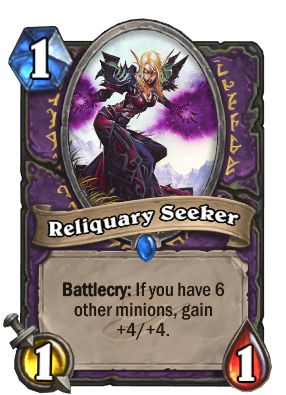 This week a lot of aggressive archetypes are actually becoming more viable to punish these greedy ladder decks, especially the midrange Paladin. Aggressive decks like Reynad's Reliquary Seeker Zoo, SMorc Shaman and Hybrid Hunter (not build by Reynad) can start to rebound the ladder back into normalcy and make these midrange-control decks a lot more honest. Decks running Cairne Bloodhoof and Sneed's Old Shredder shouldn't feel comfortable existing – we've gone too far.
When looking for a deck to play on ladder this week most Midrange Archetypes remain an incredibly strong and consistent choice. Particularly look for decks that can beat Paladin whilst retaining enough reach to contest Control Warrior and Reno Warlock – Oil Rogue is a great example and is an archetype that is really shining this week.
I actually expect an increase of a lot of aggressive decks compared to last week as people take advantage of these slow midrange – control archetypes. Anti-aggro options like Life-Gain and Heal are beginning to become more relevant and should be considered when building a midrange – control archetype. Cards like Healbot especially do a lot to shut down this new SMorc shaman we've been seeing on ladder lately.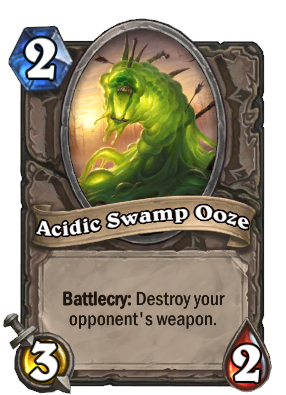 Last week was Nirvana for the Deck builder that loves tech cards. The slow nature of the meta-game saw a surge of Ironbeak Owls, Harrison Jones and Kezan Mystics. Whilst these cards are definitely still good be a bit more cautious including them in your decks this week as the meta-game becomes slightly more aggressive. Acidic Swamp Ooze may begin to overtake Harrison Jones again as a weapon removal option in midrange decks as the priority on card advantage lessens.
Ironbeak Owl is actually a card that will arguably perform better this week than last week due to the rise of Deathrattle Tempo Rogue. Ironbeak Owl can almost single-handedly shut down that decks early curve if it lands on a Nerubian Egg.
Board clear options are becoming more significant as an answer to the new aggressive decks and the current popularity of Midrange Decks like Shaman and Paladin. Flamestrike is a great example of a card that's beginning to rotate its way back in to the meta-game and performs really well against a lot of the decks you're likely to see.
Note: The Ladder will reset soon after posting of this article. Expect an inflated amount of aggressive decks during the first few days of the reset as people try to climb to where they were last season – and quickly.

Solutions
#1 Irronsmith Oil Rogue

See our streamer, ShamonaHe, play this deck and others, on his stream.
---
Favoured VS:
Midrange Paladin, Secret Paladin, Handlock, Reno Warlock and Midrange Zoo Warlock (also beats Midrange Shaman and Deathrattle Rogue).
Meta Solutions readers will be very familiar with my love of this archetype and this is the 5th time it has been featured.
Oil Rogue is a relatively adaptive archetype that thrives in polar meta-games – which is all we've been seeing over the last six weeks (be it really aggressive or really slow).
Oil Rogue is an archetype that performs really well against Midrange Paladin and Reno Warlock and can be built in such a way to contest Control Warrior.
This is a deck that has a fantastic range of match ups on ladder currently and is likely peaking this week. Control Warrior is the one archetype really keeping Oil Rogue down currently and it's less popular this week than in previous weeks due to the prevalence of Paladin (which Oil Rogues crush).
Combo Druid is also a match up Oil Rogues typically struggle to beat – but is also on the decline this week.
Outside of the favourable Community Tier 1 match ups you also have great match ups into most new Midrange Shaman and Deathrattle Rogue builds.
This Oil Rogue build is identical to the one featured in last week's Meta Solutions article and all of the tech options it runs still performs really well.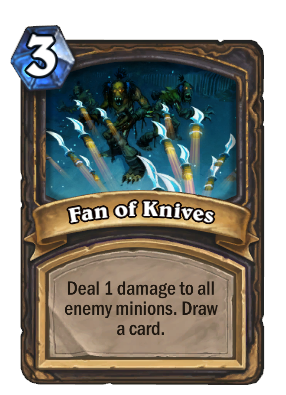 Big Game Hunter is still run in Oil Rogue despite the decline of Aggro Druid to reflect the rise of Handlock and Control archetypes in general – it also performs well against the Secret Paladins still on the ladder.
Fan of Knives is more important this week than it was last week to reflect the huge amount of Paladins. Fan of Knives is a fantastic answer to Muster for Battle and is a large reason this match-up is so favored.
Assassin's Blade is run to give this deck necessary reach against Control Warrior and Reno Warlock – look to cut a Healbot for a second Assassin's Blade if struggling in these match ups.
Antique Healbot is still run as a defensive option over Sludge Belcher as an answer to the hyper aggressive SMorc Shamans that you can struggle with otherwise.
#2 Hybrid Hunter
Favoured VS: Midrange Paladin, Secret Paladin, Control Warrior, Combo Druid, Handlock
Hybrid Hunter is back, albeit with a slightly different build.
Hybrid Hunter was last popular as a deck that was aggressive enough to punish Paladins and retained enough reach to contest Control Warriors and Combo Druids. It returns for a lot of the same reasons and is augmented by its favorable Handlock (Reno or otherwise) and Midrange Paladin match ups.
The following changes have been made from our old Hybrid Hunter build:
-1 Glaivezooka / +1 Ironbeak Owl: This is a change made to reflect Ironbeak Owl's strength in the current meta-game particularly against Handlock, Freeze Mage and Deathrattle Rogue.
-1 Explosive Trap / +1 Freezing Trap: Though board clear is more important this week as we'll begin to see more of some aggressive archetypes it is still a slow meta-game. Freezing Trap performs significantly better than Explosive in the Control Warrior and Handlock match ups so is my choice currently.
Look to put an explosive back into this deck if struggling against Midrange Paladin or other aggressive archetypes.
-2 Argent Horseriders / +2 Arcane Golem: Argent Horseriders were initially included to reflect a much more aggressive meta-game as they had the versatility to trade into a lot of minions. Arcane Golems are becoming more important as they provide a lot more reach against slower archetypes (and give you the potential to kill Reno decks before turn 6).
If struggling against Handlock or if Aggro Druid has a resurgence look to swap a Quick Shot for a Hunter's Mark.
Piloted Shredder's, Loatheb and Savannah Highmanes is a large reason this archetype is a good choice in the current meta-game as the cards perform really well against most of the midrange-control archetypes on ladder.
At only 1280 dust this deck list is also a fantastic budget option!
Note: A lot of the new Deathrattle Tempo Rogues run 1 Sap or even no Saps – which makes Highmane much less of a liability than it usually is in the match up.
#3 Lokshadow Reno Jackson Warrior
Twitch: http://www.twitch.tv/lokshadow
Twitter: https://twitter.com/lokshadowhs
Favoured VS: Control Warrior, Midrange Paladin, Reno Lock, Freeze Mage
This is a Reno Jackson warrior built by Lokshadow and used by him to climb to top 5 legend multiple times this season.
This is an unconventional control warrior deck built to beat all other control decks. It's very versatile with an insane amount of reach to dominate a lot of control decks whilst retaining a lot of stall and life-gain to beat most aggressive lists.
This deck is vulnerable to some Midrange Match ups though – particularly Combo Druid (which is on a relative decline this week).
This Warrior build has a lot of potential when looking to contest Midrange Paladins. Typically Warrior is in danger of being largely out-valued by the Paladin but this higher curve list – especially since its running Gorehowl, can much more easily contest Paladin at all stages of the game.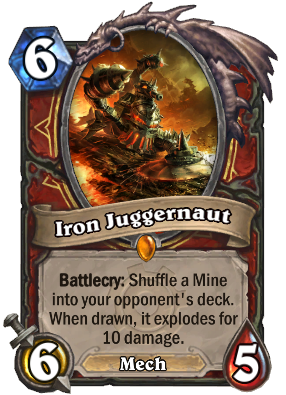 This Warrior does exceptionally well in the Control Warrior mirror match. It doesn't run any card draw options (outside of slam and arguably Harrison Jones) and runs Iron Juggernaut.
Iron Juggernaut – especially when used with Brann – does exceptionally well in match ups that go to fatigue and can do wonders in the Mirror Match.
Brann Bronzebeard is a versatile card in the deck that performs well against Control lists due to Iron Juggernaut, and aggressive lists due to Shield Maiden / Cruel Taskmaster. Look to swap a Harrison Jones for a Healbot to augment this synergy if struggling against aggressive-midrange decks.
#4 Irronman Battlecry Shaman
Favoured VS: Control Warrior, Handlock, Reno Lock, Control Warrior, Combo Druid
This is a deck that I built recently and have been having success with on ladder this season.
I love the idea of a Battlecry Shaman archetype and this is my best build of it for the current meta-game.
Midrange Shaman is an archetype that is performing really well at the moment due to its largely favorable Control Warrior and Handlock match ups. They key for shaman to excel in the current meta-game is to find a build that can contest Paladin. I think this build of Shaman does a reasonable job at that.
Jeweled Scarab is a great addition to a lot of shaman decks due to the strength of their class 3-drop cards. Jeweled Scarab enables you to run only one of a lot of your 3-drop options. Jeweled Scarab is a very slow card and whilst it can shine in the current meta-game should look to be cut when the meta-game becomes more aggressive.
Jeweled Scarab also has synergy with Brann Bronzebeard and Rumbling Elemental.
Despite Running Al'Akir this deck is less burst oriented than most Shaman Builds and is more reliant on having a favorable board position all the way into the late game. This is something that I believe helps it perform better against a lot of Paladin decks (whilst hurting their Handlock match up).
If struggling against Handlock or Control Warrior cut a Stormforged Axe for a Doomhammer.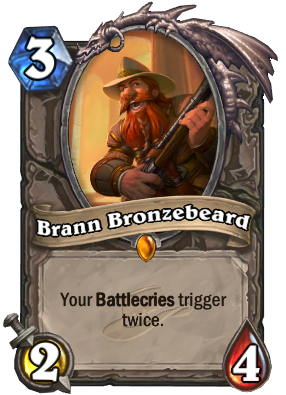 Antique Healbot is run for its Brann Bronzebeard synergy which can shut out a lot of aggressive deck especially this new hyper aggressive Shaman variant.
Mistcaller especially if used with Brann Bronzebeard makes a lot of sense in this particularly board centric Shaman variant and can single handedly win you games against other slow Board centric archetypes like Midrange Paladin.
This is a Battlecry Shaman and is built to get Rumbling Elemental and Brann Bronzebeard synergy which can give the deck significant tempo swings in the mid-game. This deck runs 16 Battlecry minions and is able to get Rumbling Elemental and Brann Bronzebeard synergy extremely consistently.
Stormforged Axe can perform really well against a lot of aggressive-midrange decks and has synergy with Tunnel Trogg.
Kezan Mystic is a great minion option in this deck given its Battlecry Synergy. If struggling against Hunter, Mage or Secret Paladin look to swap a Stormforged Axe for a Kezan Mystic.
#5 Tempo Mage
Favoured VS: Combo Druid, Secret Paladin, Midrange Paladin, Reno Warlock
Tempo Mage is an incredibly strong deck in the current Meta-Game. We featured it in our first Meta Solutions article, and it has spent time as a Top Tier deck since then.
I feel like the Tempo Mage population and public awareness of the archetype has dropped off significantly and for no good reason. The deck remains very strong against all Paladin, Druid and Shaman archetypes (and that alone makes it worth consideration currently).
Tempo Mage, due to Archmage Antonidas, can also perform really well against Reno Jackson decks. Archmage, especially if it survives for a turn, can prove to be unmanageable for slower archetypes and is a fantastic win condition against a lot of control decks.
This deck looks to swap Ragnaros for a Flamestrike from last week's deck list. This is a change that better reflects that large amount of Paladin and Shaman on ladder currently. Ragnaros under-performs against these decks with a lot of token generation whilst Flamestrike offers a fantastic board clear option and recovery mechanic.
This deck is a very slight variation of the Community Standard Tempo Mage variant in our deck mastery article. This deck opts to swap an Arcane Blast for a Flamestrike to reflect the increase of Shaman, Paladin and Midrange archetypes in general.
Look to swap an Arcane Blast for a Mirror Image if struggling against Control Warrior.
---
Thank You Joe!
Joe is our first Silver Patron and we're super grateful!
Thank you Joe for supporting us, our work and this content, everyone reading it is benefiting from your contribution.
If you'd like to be featured in one of our articles, or get in on the other great benefits our Patrons are getting, head over to our Patreon Page and consider helping make this content continue!