Overview
Today we break down Control Warrior.
Fatigue Warrior – despite running a lot of the same cards – plays much more passively than Control Warrior and has different win conditions in a lot of match ups, so we won't be covering it in this article.
Control Warrior is one of the oldest archetypes in Hearthstone and has been around since Hearthstone has been played competitively. The extremely efficient defensive Hero Power and low mana removal options (Execute, Shield Slam) and weapons (Fiery War Axe) has always allowed warrior to run a much higher curve than most decks. Kitkatz and Sjow are prolific warrior players that have been active in the Hearthstone scene for a long time and have done a lot to popularize this archetype since the Hearthstone Beta.
Control Warrior is an archetype that has seen a lot of popularity in recent months. Initially as a great counter to Patron Warrior the archetype continued to see play to counter the surge of Face Hunters, Aggro Druids and Freeze Mages.
Playstyle
Control Warrior excels at out-valuing its opponents in the late game. Control Warrior looks to control the enemies' board state in the early-mid game with its efficient  removal options. Control Warrior will look to have a neutral or favorable board state coming into its late game swing turns (turn 7-10) so that it can start playing high value threats every turn.
Control Warrior has such a high minion curve and such efficient life-gain and removal options that it can grind a lot of decks out of cards. Fatiguing your opponent is often a viable win condition even in conventional Control Warrior lists.
Whilst Control Warrior is capable against a lot of common ladder decks currently it is particularly efficient against Freeze Mage, Oil Rogue and Face Hunter. The prevalence of Control Warrior is a large reason why Face Hunter is struggling so much in this meta-game.
A lot of the reason Control Warrior is so strong against these archetypes is because of their relatively finite damage potential. None of these archetypes have a large dependence on Minion Damage, they're relatively spell-oriented and plan on burning their opponent out in the early, mid or late game. Control Warrior has so many efficient life gain options (Armorsmith, Shieldmaiden, Shield Block, Bash, Justicar) as well as their hero power that they can just grind these decks out of cards.
Control Warrior can often struggle against more board centric midrange archetypes (Midrange Hunter, Paladin, and Shaman) that typically push a lot of damage through difficult to remove mid-game board states. Control Warrior has relatively low board clear options (only brawl) and a lot of aggressive midrange archetypes can prove too aggressive for them to handle and grind the warrior out of removal options.
Control Warrior having such a high minion curve can often cause their hands to be very clunky and cause them to struggle to find a tempo advantage at any stage of the game against Midrange archetypes.
Core Cards
The list on the right contains all of the cards I believe to be core to the Control Warrior archetype. All of these cards are extremely efficient at facilitating the goal of Control Warrior, which is to control/stall your opponent's board states in the early-mid game and develop large threats in the late game.
When looking to build a Control Warrior list these 16 cards should be auto-includes. Your personal Control Warrior variant and flair will be packed into the next 14 cards; my favorite options will be outlined in the next page: Variants.
Execute (2): Arguably the best removal card in the game. This card is absolutely integral in this archetype and extremely efficient at managing the board state of any deck.
This card obviously gets consistent value against slower archetypes but a lot of aggressive archetypes (Secret Paladin, Aggro Druid) have an emphasis on large mid game minions (Mysterious Challenger, Fel Reaver). This makes Execute incredibly consistent in the current meta-game.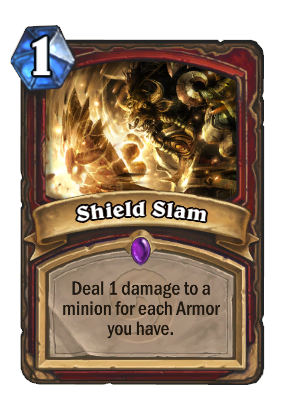 Shield Slam (2): Perhaps some people could argue against this card being core because of its inefficacy in a lot of Patron Warrior variants. I didn't think excluding it would be a fair representation of this cards strength though. Despite this card not being quite as good as execute it is simply far too consistent not to have 2 of in most Control Warrior decks.
The card is particularly efficient when combo'd with Shieldmaiden, Shield Block, Armorsmith or Bash.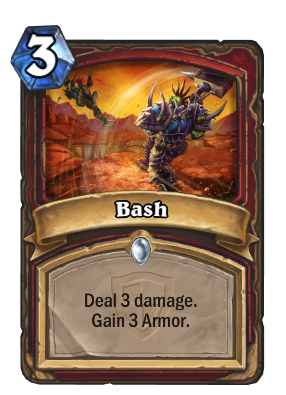 Bash (1): This is a relatively new card to the archetype and was released in TGT to largely mixed reviews initially. However the strength and versatility of this card has more than justified 1 Bash being considered core. Bash was particularly strong in recent weeks as an answer to aggressive decks.
Acolyte of Pain was shifted out of the standard Control Warrior rotation in favor of Bash. This was to reflect the Meta games massive priority on tempo leads and relative disrespect for card advantage. Bash also outperforms Acolyte in any match up that wants to go to fatigue.
I only consider one of this card core currently due to how the meta game is slowing down currently. Card advantage is becoming more relevant and this card can underperform against some control and even midrange decks.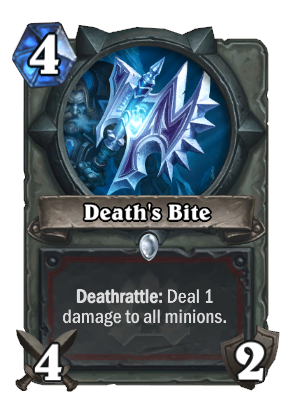 Deaths Bite (2): This Naxxramas card is my pick for the best card in the archetype and makes me question how the deck was ever successful without it. Deaths Bite might be the only card you keep in your opening mulligan against every match up and it's because it performs well against every deck.
The Weapon can often manage to kill two mid-game minions (which is something the deck struggles with otherwise) and its whirlwind effect is great at handling token generation (which in a Paladin heavy meta game is extremely relevant).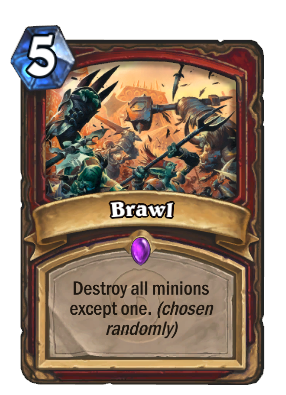 Brawl (1): This card is your only efficient board clear option against Midrange Archetypes and frequently wins you games that would be impossible without it. Whilst a lot of decks opt to run double Brawl I don't think two are necessary in this relatively Control heavy meta-game. It is definitely viable though given the prevalence of Midrange Paladin, Midrange Shaman and Handlock.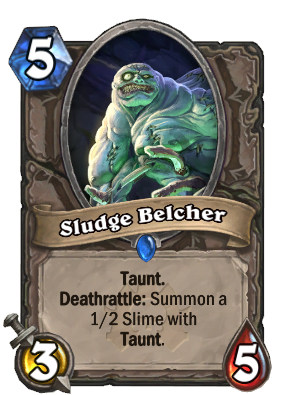 Sludge Belcher (2): This card is simply the best neutral minion option you have at stalling out the game and shutting down your opponent's aggression. Sludge Belcher is typically always run over Healbot due to its versatility against midrange – control decks. Warrior doesn't have a fantastic 5-drop option which goes a long way to making two of this card a core addition to the archetype.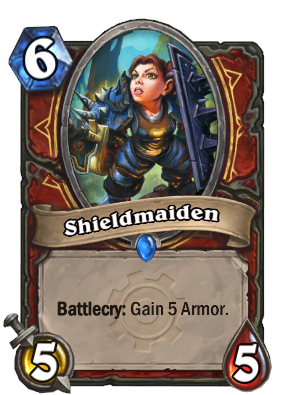 Shieldmaiden (1): This card is an extremely efficient life-gain option and has fantastic synergy with Shield Slam. The only reason only one of these cards is core in the archetype is because of the strength of both Justicar Trueheart and Sylvanas Windrunner. Decks that opt to run Justicar and Sylvanas will often decide to cut 1 Shieldmaiden to make their minion curve less clunky.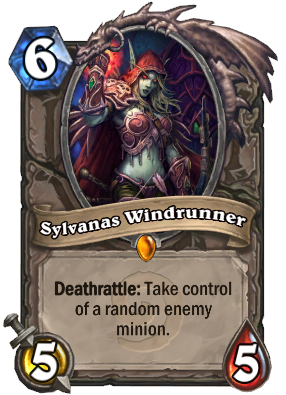 Sylvanas Windrunner: Sylvanas is a great option in almost any control deck, and finds her way into a lot of midrange decks. The Deathrattle effect can be very difficult to navigate for a lot of decks and is particularly strong against Midrange decks. Sylvanas is also incredibly strong when used with Brawl as it ensures you will have board control immediately following the Brawl effect.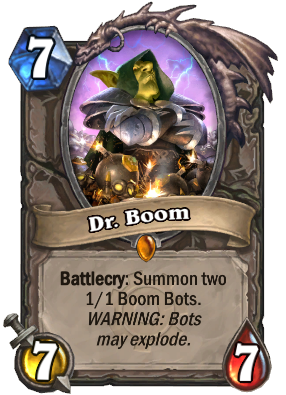 Dr. Boom: Simply put, Dr. Boom is too strong not too include in most midrange-control decks. Control Warrior looks to stall out the game for its late-game threats and this is the most consistent and versatile late-game minion option.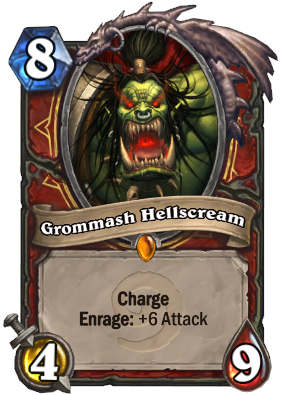 Grommash Hellscream: Grommash is a surprisingly versatile card in Control Warrior decks. The card can be used as a board control option against aggressive decks and offers a lot of burst and reach against slower decks. Grommash + Deaths Bite / Cruel Taskmaster is your best win condition against a lot of slower archetypes especially Handlock.
Notable Absences: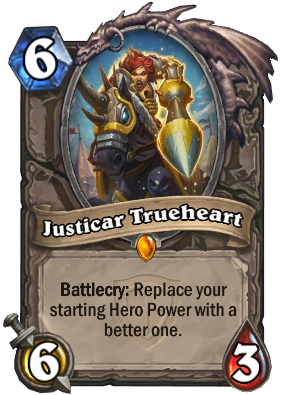 Justicar Truehart: Justicar is an extremely strong option in a lot of Warrior decks and particularly shines against a lot of control decks popular at the moment (most notably Freeze Mage and the mirror match). This said, some Control Warrior archetypes are more proactive and minion centric – they will often run Piloted Shredders. These decks value the mid-late tempo too much to value running a 6 mana 6/3 minion – they are also too aggressive to value the hero power as a win condition.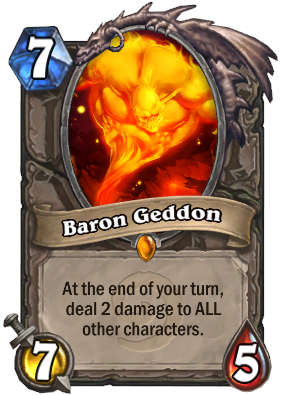 Baron Geddon: I want to be clear that I think this card is extremely powerful and is still a great option in almost every Control Warrior deck. Baron Geddon is a great option against any aggressive-midrange deck (especially Paladin and Shaman).
However due to the Meta-Game slowing down and the existence of some more board centric control warrior archetypes I don't think the card is 'Core' in Control Warrior. Baron Geddon whilst being very strong now might see less play in the near future.
Variants
Variants
The ability to adapt your archetype to best match the current meta-game and personal play style is critical when trying to have a fun and successful ladder experience.
The following are my favorite ways to build Control Warrior in the current meta-game. All lists are adapted from the core-card base.
Irronman's Choice: Irronsmith Warrior
See Variant
The best build of the Control Warrior archetype was a topic of some discussion between me and ShamonaHe over this last week. We settled on this build of the deck and we think it performs very well against most of what you're likely to see in ladder.
Look at the YouTube video below for a video play through of this deck list and for a better idea of how it plays. ShamonaHe will be streaming today and is likely to play this deck, I encourage you to go over and check it out.
This deck runs a larger than normal amount of 'Tech Cards' to reflect the slower nature of the current meta-game.
Ironbeak Owl has become a lot more viable this week and is a great answer to cards like Doomsayer, Sylvanas, Twilight Drake, Tirion Fordring and Mad Scientist.
Harrison Jones has become very viable largely to answer the rise of Midrange Archetypes. A lot of Midrange decks like Rogue, Shaman and Paladin have a large reliance on weapon damage to beat slower decks (particularly Rogue). This card outperforms the other weapon removal option Acidic Swamp Ooze in most decks currently because of the larger emphasis on card advantage in this meta-game.
This deck runs only one Bash to reflect the relative decline of aggressive archetypes. If struggling against these decks look to cut an Acolyte of Pain for a Bash.
To reflect the rise of a lot of slower midrange – control archetypes, particularly ones where your fatigue isn't relevant (Handlock, Midrange Paladin) this deck runs two 3-drop card draw options. This deck opts to split between one Shield Block and one Acolyte of Pain due to Acolytes extreme weakness in the mirror match. Acolyte can get a lot of value in some match ups though – especially midrange paladin.
Ysera is one of your best late-game win conditions and can often be necessary against slower archetypes.
This deck, and any variant running Justicar, has an insane Freeze Mage win rate – the matchup is nearly impossible to lose. Justicar has a lot of strength against any slow archetype and really bolsters your secondary win condition (to grind your opponent out of cards).
This list opts to run double Big Game Hunter. Big Game Hunter is a card that has a lot of synergy with Cruel Taskmaster as it allows you to buff enemy 5 or 6 attack minions and then kill them. Double Big Game Hunter is also extremely strong at the moment due to the prevalence of Handlock, Secret Paladin and Dr. Booms in general.
It should be said whilst this list isn't the 'best variant' against as many decks as some others listed we still believe it to be the best as it has the greatest overall score against the current tier 1 decks on ladder.
Run this Variant if playing against: Handlock, Freeze Mage, Face Hunter
ShamonaHe's Video Guide:

You can also see him streaming at: Twitch.tv/ShamonaHe
Community Standard
See Variant
This is currently the most popular Control Warrior build in the Hearthstone community. This deck, like all community standards, is very versatile and is the best option when you don't know the nature of the meta-game.
This deck is well built and has potential to win against almost anything you're likely to find on ladder. This build of Control Warrior is likely the best option for anyone new to the archetype or is at a relatively low rank as it has a lot of anti-aggro tech whilst still performing well against Control deck lists.
This Control Warrior build reflects a relatively aggressive meta-game and cuts a lot of the situational cards seen in the previous variants and instead opts for a larger early removal package (Slam x2, Bash x2) – this allows it to consistently contest the board states of aggressive decks.
This deck also decides to cut any Acolyte for more defensive options (Bash, Shield Block) to have a stronger match up against any aggressive deck list.
Running only one Big Game Hunter, it instantly performs worse against Handlock than the previous variant.
Cutting an Ysera for a Second Brawl is a viable option when looking to shut out any aggressive archetype. This deck already has a lot of anti-aggro tech so running double Brawl makes sense thematically in this build of Control Warrior. This substitution will hurt your win rate versus a lot of Control decks though (particularly the mirror match).
Cutting Ysera for a Ragnaros is worth considering at the moment to improve your Combo Druid, Oil Rogue, Handlock and Freeze Mage match ups. This deck has a relatively comfortable time against Oil Rogue and Freeze Mage already though so opts not to make this substitution currently.
Consider cutting Shield Blocks for Fierce Monkeys if struggling against any aggressive-midrange deck.
Run this Variant if: You don't know the nature of the meta game, are new to this archetype or against Dragon Priest.
Zaguios Control Patron Warrior
See Variant
Reddit Post: Reddit.com/r/CompetitiveHS/…guide_top_10_legend_with_new_control_patron/
This is an extremely strong Control Warrior variant running Grim Patron that was built by Zaguios and used by him to climb to rank 5 legend this season.
This deck was also featured in our week 2 and week 3 Meta Solutions articles.
This deck takes the standard Control Warrior variant and removes defensive cards (Sludge Belcher, Alexstraza, Baron Geddon and Slams) to make room for its Grim Patron core.
Similar to the Community Standard variant this deck opts to run no situational cards to improve its win-rate against aggressive decks.
Unlike other builds of Patron Warrior this deck retains most of its late-game reach and is able to contest slower archetypes all the way to fatigue much better than other Patron Warrior variants.
This deck running Ysera and Justicar has a much easier time against most Control Archetypes than other Patron Warrior variants.
All versions of Patron Warrior perform very well against all Paladin variants (which are very popular currently). This deck also performs well against most of the Shaman Decks popular currently and becomes even better if the meta-game reverts to something more aggressive.
Whilst I think this is the best Patron Warrior variant to be running on ladder currently it is something that can still have a lot of trouble against some slower archetypes like Control Warrior and Handlock.
Like all Patron Warrior variants this deck is challenging and a lot of fun to play – I continue to recommend this deck to people looking to have fun whilst climbing the ranked ladder this season.
Like all Control and Patron Warrior variants this deck performs very well against Freeze Mage (especially as this deck is running Justicar).
Run this Variant if playing against: Secret Paladin, Aggro Druid, Midrange Paladin, Tempo Mage
Neirea Varian Wrynn Control Warrior
See Variant
Twitch: http://www.twitch.tv/neirea
Twitter: https://twitter.com/LiquidNeirea
This is a more Midrange take on the Control Warrior archetype and built by Neirea. Neirea used this deck to climb to rank 3 legend during the September 2015 season.
This deck is much more proactive than other Control Warrior variants and runs Piloted Shredder to apply pressure on its opponent in the early-mid game.
Pro-active decks that run more early game minions typically decide not run Alexstraza. Alexstraza becomes a lot less relevant when you often have your opponent on relatively low amounts of health in the mid-late game.
Varian Wrynn obviously makes a lot more sense in a more minion centric variant.
Alexstraza also loses a lot of value when run in conjunction with Varian Wrynn.
Ragnaros replaces Alexstraza in this deck list to reflect the cards relative strength when run with cards like Piloted Shredder and Varian Wrynn.
This deck was built to reflect a relatively aggressive meta-game and runs a larger amount of early removal (Slam x2, Whirlwind x1). Whilst Slam is still good in this deck list – both to cycle and to augment this decks power against the Midrange decks it was built to beat – the Whirlwind feels outdated.
TheIrronSmith recommends you replace Whirlwind with a Ysera to increase your reach against slower decks and to augment your Varian Wrynn synergy.
This deck runs no Big Game Hunters or Justicar and as a result struggles a lot more against slower decks compared to other Control Warrior variants (especially Handlock).
This deck running double Acolyte can also be a liability against decks that want to go to fatigue – that said, this deck is more pro-active and isn't built to facilitate that win condition. This deck will have a hard time against more conventional Control Warrior lists though (it always will due to the Varian card draw anyway).
The proactive nature of this deck allows it to perform much better against the Midrange Decks the archetype normally struggles with. Piloted Shredder and Ragnaros are card choices that can really shine against Combo Druid and Oil Rogue.
Cutting a Slam for Gorehowl is a great way to bolster your match ups against nearly all Midrange Deck lists and is something I recommend you try.
Run this Variant if playing against: Combo Druid, Oil Rogue, Midrange Hunter
Lokshadow Dragon Control Warrior
See Variant
Twitch: twitch.tv/lokshadow
Twitter: twitter.com/lokshadowhs
This is a Dragon Control Warrior built by Lokshadow and used by him to reach rank 1 legend during the July 2015 season.
This deck is extremely high curve to take advantage of a lot of Dragon Synergy and as a result performs well against a lot of control decks – something that is becoming more relevant in a modern meta game.
This deck sacrifices a lot of Control Warrior's early curve in order to make room for a lot of its Dragons.
Whilst this Dragon Warrior build fell out of popularity I believe that is something that can perform well in a modern meta-game especially after making slight adjustments.
Baron Geddon/Chillmaw are cards I question slightly in this deck that I feel thrives against slower archetypes. Having both of these cards feels slightly excessive as anti-aggro tech and swapping one for a Dr.Boom would better embrace the nature of the deck list.
Revenge is actually a card that performs well against a lot of the Midrange Decks on ladder (especially Paladin and Shaman). If struggling against aggressive decks though look to swap this for Armorsmith.
This deck decides not to run any card draw which makes a lot of sense given the extremely high minion curve – especially when considering Deathwing. Deathwing is a card that actually performs very well against Handlock and the Control Warrior mirror match.
Emperor Thaurissan is in this deck list in an attempt to make the mid-late game less clunky. Look to cut this card for a Sludge Belcher or a second Shieldmaiden if struggling against aggressive lists.
This is the only variant that doesn't adhere to the Control Warrior core card list (No Sludge Belchers or Dr. Boom) due to the incredibly unconventional nature of its core card base. Sludge Belchers and Dr. Boom are still viable in this deck though. This deck was included due to it having a very similar playstyle and win conditions to other Control Warrior variants.
Run this Variant if playing against: Warrior (Control/Fatigue/Patron), Control Priest
Matchups
Establishing your win conditions
The most important thing to be aware of when considering the 'right play' in any match up from mulligans to securing lethal is the win conditions for both you and your opponent. The ability to make all of your decisions in a game whilst thinking about how it facilitates your own victory or denies your opponents is critical to success in Hearthstone.
Your win conditions:
As a Control Warrior your primary win condition is to manage your opponent's board state in the early-mid game.  You want to create a neutral or favorable board state coming into the late game (turns 7-10) so that you can start playing all of your large minion threats that your opponent won't be able to deal with.
This win condition can change a lot depending on the match up.
Due to the incredibly efficient life-gain options available as a Control Warrior, versus a lot of aggressive match ups (Face Hunter, Aggro Druid, Secret Paladin) or decks with finite damage potential (Oil Rogue, Freeze Mage) you can grind them out of cards and take them to Fatigue. Simply using all of your removal and life-gain whilst not drawing cards (in order to grind your opponent out of the game) is a viable win condition in a lot of match ups.
The match ups for Control Warrior from most favorable to least favorable are as follows:
Matchups Guide and Mulligans
Freeze Mage
See Matchup
Face Hunter
See Matchup
Oil Rogue
See Matchup
Tempo Mage
See Matchup
Priest (Control/Dragon)
See Matchup
Aggro Druid
See Matchup
Handlock (Demon/Reno)
See Matchup
Secret Paladin
See Matchup
Midrange Hunter
See Matchup
Combo Druid
See Matchup
Midrange Paladin
See Matchup
Budget Versions
Budget Decks
Our Budget decks are aimed at players with some experience looking to try out a new deck without breaking the bank. Some are adaptations of our favorite variants others haven't been adapted at all and just happen to be cheap!
Ultimately budget decks for Control Warrior are extremely hard to facilitate given the nature of the archetypes Win Conditions. Control Warrior looks to control and stall their opponent's board state in the early-mid game and then out-value them with large threats in the late game. As a result they have an over dependence on late game legendary minions for the archetype to operate.
It's called Wallet Warrior with good reason.
We have done our best to provide viable options for you though! Below are two very viable albeit unconventional Control Warrior lists priced at under 5k dust (this is budget within the context of Control Warrior).
Xixo Patron Warrior
See Deck
Xixo Twitch: http://www.twitch.tv/xixo
Xixo Twitter: https://twitter.com/navixixo
This is a Patron Warrior built by Xixo and used by him to climb to rank 2 legend during the October 2015 season.
This deck was featured in our first Meta Solutions and is a fantastic answer to nearly every aggressive archetype. This deck will perform even better against any aggressive deck than the Control Patron variant listed.
It will, however, perform worse against almost every slower archetype – especially Handlock and Control Warrior.
This trade-off is something that worked better for the meta-game last month but this list will still see a lot of success on ladder – especially at lower ranks.
'Budget' Dragon Warrior
See Deck
This is a deck I built for this article and is a lot of fun!
This deck is particularly efficient against most Midrange decks you're likely to see on ladder (particularly Combo Druid, Midrange Shaman and Dragon Priest).
Drakonid Crusher is run in this deck to supplement the aggressive-midrange nature of the list. It's great at enabling your Blackwing Corruptors and Technicians and can consistently find value.
Nefarian and Chromaggus are budget options for Ysera and Chillmaw as they came free with a purchase of Blackrock Mountain.
Fiery War Axe, Alexstrasza's Champion and Bash enables you to frequently find early board advantages against a lot of aggressive-midrange archetypes.
We need your support!
To keep producing these articles we need your support.
Right now we're looking for our first 10 people, who are willing to support us to let us know this content is valued. Whatever amount works for you is appreciated, $1/week is still enough to let us know support is out there.
If you're willing to be one of our 10 first supporters, click here, and we'll send you a personal thank you note when you submit your pledge:
Edit: Woo, thank you Kevin! Appreciate it man.
Reader Interactions